Analemma Society Programs
Analemma Society holds regular public star-gazing nights at Observatory Park, Turner Farm, Great Falls Virgnia through cooperation with the Fairfax County Park Authority.

Analemma Society uses the RATO observatory. The Roll-Top Observatory complements this for public observing made available through Fairfax County Park Authority for astronomical observing events and educational classes.

The new Roll-Top observatory is open for Friday night public observing and for Fairfax County Park Authority courses and other events in the classroom. The facility, dedicated in 2016 is open on clear Friday nights for observing assisted by Analemma Society volunteers.

The Analemma Society was founded in 1998 to foster science through astronomy. Star-Gazing at the moon, stars, and deep sky objects is a regular public event.

Analemma Society has educational programs throughout the year to dexplain astronomical objects and their relevance to our lives.

Fairfax County Park Authority is constructing the new Roll-Top observatory and classrooms. The facility will be ready by Summer 2016 for Analemma Society observing and educational programs.

Analemma Society in cooperation with Fairfax County Park Authority makes available the Remote Accessed Telescope Observatory (RATO) for astronomical imaging. In the near future, students will be able to request astronomical images through this website.
Join the dedication ceremony at Turner Farm on Saturday, June 24th at 10am in the park. The Virginia Board of Historic Resources has designated a highway marker to recognize this site not only as a former Nike missile site, but as an important satellite tracking facility of the U.S. Army Map Service. The Marker states that "This tracking system contributed fundamentally to the Global Positioning System (GPS). The data gathered here enabled geospatial scientists to establish precise geographical reference points on the Earth's surface and to refine their estimates of the Earth's true shape and variations in its gravity field."
Local and state officials, members of the community and former employees of the U.S. Army Map Service and Defense Mapping Agency will be in attendance. The event is sponsored by the Fairfax County Park Authority and the Analemma Society.
Turner Farm is located at 925 Springvale Road, Great Falls, VA. For more information about the ceremony, please contact the Public Information Office at 703-324-8662 or via This email address is being protected from spambots. You need JavaScript enabled to view it..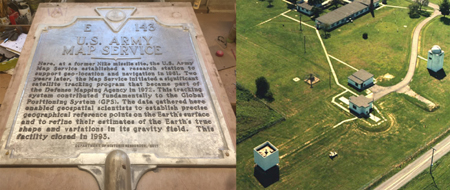 UPDATE -Variable Weather - Check Observing Page

The Roll-Top observatory is available to the public for viewing the skies on Friday nights May26th, June 2nd, 9th, 16th, 23rd, and 30th, weather permitting.
The Analemma Society holds these Friday Night Public Viewing Sessions at Turner Farm in Great Falls, VA. With the Roll-Top operational, volunteers will be available to help the public use the newly mounted telescopes.

We continue to invite the public to bring their own telescopes and set up outside the Roll-Top. There is a lot to see in the spring sky. On several of our Friday Night sessions, we have had more than 100 visitors! As we enter the summer season, think about bringing your own telescope or binoculars.

These public observing sessions are open to all. We get everyone from families with older kids, families with young children, individuals, couples, and students attending these public sessions.
Please double check the weather and sky before attending. Check our Observing page for the Clear Sky Chart and Analemma Tweets for last minute messages.

The public observing sessions are from 8:30 to 10:30 PM as the summer days get longer. Wear approprioate clothing - nightscan still be cool. The Roll-Top observatory has an enclosed classroom, but the observatory room is not heated and open to the sky.
Here's what's up in the sky for early June:
Double Stars: Iota Cancri, r, Algieba (Gamma Leonis), Mizar and Alcor, Cor Coroli, Izar (Epsilon Bootis)

Stars with Color: Spica (Blue-White), Arcturus (Red Giant) , Y CVn (a Carbon Star)

Globular Clusters: Messier Objects M3, M5, M92, M13 (Great Cluster in Hercules)

Open Clusters: Messier Objects, M44 (Beehive)

Double Clusters: h & chi Persei, M35 (Gemini)

Planetary Nebulae: Eskimo Nebula (NGC 2392), M57 (Ring Nebula in Lyra)

Galaxies: Messier Objects M81 & M82 (Ursa Major), M104 (Sombrero Galaxy), M51 (Whirlpool Galaxy, M84, M86

There are 4 telescopes set up for viewing in the Roll-Top observatory including a 7" high quality refractor. For public sessions, we may also have telescopes set up outside the building along the walkway to look through. Members of the public are welcome to bring their own telescopes and set them up as well. If you bring your own telescope equipment and have not been at one of our public sessions before, we recommend you contact one of the volunteers first upon arrival so we can guide you on where to set up.
When you pull into the access road leading into the park, follow the road to the parking lot that will be to the left. Please put your headlights on low when entering the parking lot. All visitors must park in the parking lot. Enter through the pedestrian gate in the Northwest corner of the parking lot and follow the walkway up to the Roll-Top building (the squat building with the moveable roof). For public sessions, the Analemma Society will have a coordinator present to greet people and provide directions. But if the coordinator is busy or providing assistance inside the building, enter through the gray door on the walkway side of the Roll-Top building.
These events are very weather dependent. Please check the Analemma tweet page on this website (or directly at @AnalemmaSociety ) for updates on Friday viewing if the weather looks questionable.

NRL Galactic Radiation Background (GRAB) Satellite
and JHU-APL Transit II-A Navigation Satellite
carrying first "digital clock" June 22, 1960
The Fairfax County Park Authority, Analemma Society and Great Falls Library have teamed up to present a two-part lecture series, "From Sundials to Satellites to GPS," on April 6 and May 4, 2017. Talks will be held in the library's meeting room from 7 to approximately 8:30 p.m.
On April 6, Stephen Malys of the National Geospatial-Intelligence Agency will speak on the topic "Journey to the Center of the Earth-Status of the Terrestrial Reference Frame." The program will review progress in the past 2,000 years in charting earth's measurements, starting with the age when sundials and trigonometry were considered high tech.
On May 4, Paul Ceruzzi of the Smithsonian Institution's National Air and Space Museum lectures on "Not just GPS: Why Russians, the European Union, China, and India are building satellite navigation systems, and what that means for the U.S. Global Positioning System." Ceruzzi will give a brief history of GPS and show how it has grown far beyond the expectations of its creators.
The lectures are free, and no registration is required. Participants are invited to attend one or both talks. This program ties into activities at the Park Authority's Observatory Park at Turner Farm. The International Sundial Garden at Observatory Park is part of the Turner Farm Conceptual Development Plan and the first sundial, the Jamestown Commemorative Sundial, was installed in 2007. The Army Map Service/Defense Mapping Agency activity that was at the site from 1963 to 1993 was a Satellite Tracking Branch whose work was important to the development of GPS.
Great Falls Library is located at 9830 Georgetown Pike in Great Falls, VA. For more information about the lecture program, contact Daniela Dixon at 703-757-8560. DOWNLOAD THE FLYER

Through the FCPA Parktakes courses, you can take an introductory course on telescopes, learn about the history of sundials and make your own sundial, or you can learn about the physics of meteors ("shooting stars") and techniques to observe them.
The courses will be given at Turner Farm (Observatory Park) in the new Roll-Top Observatory.

Code Date/Time Title Ages
7051807102 Tue 2/21/2017 7:30pm Intro to Telescopes 7-Adult
7052807101 Tue 3/28/2017 7:30pm Intro to Telescopes 7-Adult
7052807102 Tue 4/18/2017 7:30pm Intro to Telescopes 7-Adult
7052807201 Wed 4/19/2017 7:30pm Spring Meteor Astronomy I 10-Adult
7052807201 Wed 5/17/2017 7:30pm Spring Meteor Astronomy II 10-Adult
7052807201 Wed 6/14/2017 7:30pm Spring Meteor Astronomy III 10-Adult
7052807301 Sat 3/25/2017 10:am Intro to Sundials I 16-Adult
7052807401 Sat 4/08/2017 10:am Intro to Sundials II 16-Adult
7051080501 Sat 3/18/2017 6:pm Astronomy for Family Fun 5-Adult
You can register at: http://www.fairfaxcounty.gov/parks/parktakes/
All it takes to sign up with Parktakes is to get a member number, fill in the Course code (from above) and provide a valid email address and Visa or MasterCard.

Course Descriptions:
--------------------------------

Spring Meteor Astronomy: Instructor Peter S. Gural (Senior Scientist, Leidos)
Couse covers basic meteor astronomy including meteor phenomena and when they can be seen, fireball reporting and simple visual observing techniques. Learn about automated observations using affordable video cameras. Course also covers advanced techniques using radar, radio, infrasound and spectroscopy. Optional outdoor visual observing sessions after class weather permitting; bring a lawn chair and warm cover/sleeping bag. Class meets Apr 19, May 17 and June 14.
Introduction to Sundials: Instructor Robert Kellogg (Boeing Technical Fellow)
Learn about the world's oldest clocks. Explore the history of sundials and solar alignments from Newgrange to modern sundials to digital sundials. Learn about Pythagoras and the beauty of triangles and proportions which lead to basic trigonometry. Use simple trigonometry to draw a horizontal sundial. Class includes a half hour break. Second session: Tour the Jamestown Sundial located at Observatory Park of Turner Farm and learn about it and its history. Use software to explore the mathematics of vertical declining dials and design your own sundial. Class meets March 25 and Apr 8.
Intro to Telescopes: Instructor Alan Figgatt
Now that you have received a new telescope, our even a good pair of binoculars, how do you set it up and use it to find the wonders of the night sky? This course goes into quick basics of astronomy and what you need to know to setup and use your telescope. Course content depends on telescope type. If weather permits, the course will include observing selected objects in the sky using the roll-top observatory. You can bring your own telescope to class. Children must be accompanied by an adult registered in the program. One session class repeated Feb 21, March 28, and May 18.
Astronomy for Family Fun: Instructor Tammy Schwab
Learn about the moon and do fun activities and crafts that will help demystify the moon and "bring it down to earth." Children must be accompanied by an adult registered in the program. Class meets March 18.
Come join the Analemma Society and the Fairfax County Park Authority on Saturday Oct 1st, 2016 at 10am when the FCPA will dedicate the Roll-Top Observatory and Classroom. The dedication will be at Observatory Park of Turner Farm Park at 925 Springvale Road in Great Falls Firginia. For more information, contact the Public Information Office of FPCA at 703-324-8662.
From the September 2016 eNewsletter of the Fairfax County Park Authority (FCPA) is the following (photo from the Analemma Society):
'With the help of a very generous donation from Jean and Ric Edelman the Park Authority was able to build and furnish a roll top observatory building at Observatory Park at Turner Farm. The financial services radio talk show host was reminded of his childhood fascination with astronomy when someone gave him a 10-inch telescope to commemorate his 40th birthday. Edelman and his wife and business partner, Jean, share a passion for astronomy and are deeply committed to sharing the knowledge with younger generations."

"The Edelmans substantial contribution to the Fairfax County Park Foundation to fund Observatory Park is greatly appreciated. They will join Analemma Society members and other supporters at the ribbon cutting ceremony at 10 AM on October 1, 2016. The park is located at 925 Springvale Road in Great Falls, VA."