Analemma Society Programs
Analemma Society in cooperation with Fairfax County Park Authority makes available the Remote Accessed Telescope Observatory (RATO) for astronomical imaging. In the near future, students will be able to request astronomical images through this website.

Analemma Society uses the RATO observatory. By Summer of 2016 a Roll-Top Observatory will complement resources made available through Fairfax County Park Authority for astronomical observing events and educational classes.

The Analemma Society was founded in 1998 to foster science through astronomy. Star-Gazing at the moon, stars, and deep sky objects is a regular public event.

Fairfax County Park Authority is constructing the new Roll-Top observatory and classrooms. The facility will be ready by Summer 2016 for Analemma Society observing and educational programs.

Analemma Society holds regular public star-gazing nights at Observatory Park, Turner Farm, Great Falls Virgnia through cooperation with the Fairfax County Park Authority.

Analemma Society has educational programs throughout the year to dexplain astronomical objects and their relevance to our lives.
Ever wonder what telescope to buy? Refractor, Reflector ... Big Scope or a Little Scope ... Dobsonian Mount ... or maybe just a good pair of binoculars and a star catalog. As they say, this isn't rocket science. Here's an excellent article: So You Wanna Buy a Telescope - Advice For Beginners by Ed Ting. Ed walks through the type of telescopes and eyepieces and even the types of binoculars that will help you get started with a great view of the sky.
"The simplicity part is important...Beginners need early success, and the 6" or 8" aperture is big enough to throw up a bright image of most common celestial objects." Read it all in Ed Ting's article.
Observatory Park is closed to the public until May 2016 for safety during the construction of the Roll-Top Observatory building.  Because of the closure, the Friday night public observing program at Observatory Park have been suspended until construction is complete.
In lieu of this, a monthly public observing program is being held on moonless Friday nights at Baron Cameron Park in Reston, Virginia.  The observing program is similar to the observing program at Observatory Park with telescopes set up on the field for public observation, informal sky tours of the night sky... and of course everyone is welcome to bring their own telescope.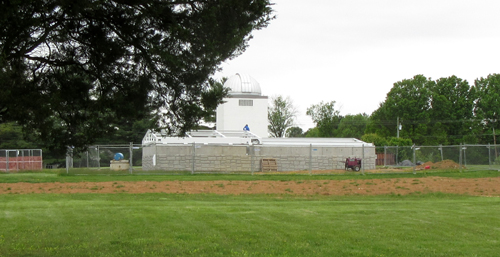 Construction on the Roll-Top Observatory at Turner Farm in Great Falls, Virginia is proceeding despite a month or rainy weather where we only had a brief glimpse of the transit of Mercury on May 9th. The roof of the Roll-Top building is now being constructed and the telescope pier mounting plates will be installed during the week of May 16th as well. Construction continues on schedule with initial operating capability targeted for September 2016.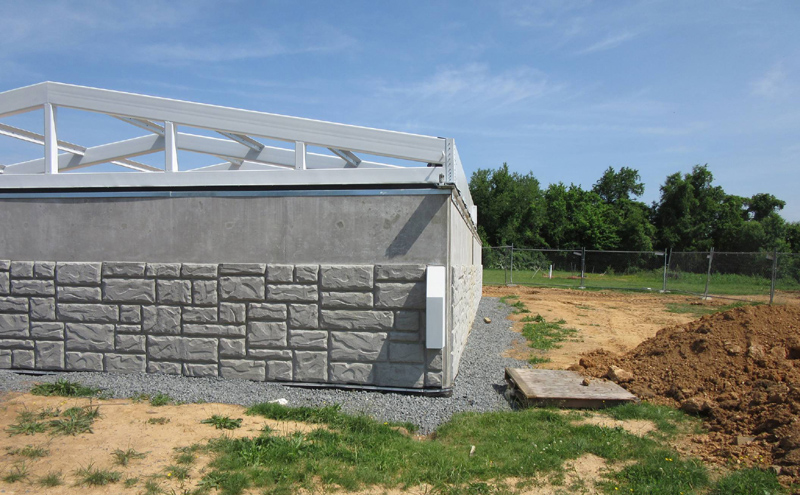 This photo was taken on 26 May 2016 and shows not only the exterior construction of the Roll-Top Observatory, but the rafters and support joist of the roll top roof.