Details
Through the Fairfax County Park Authority Parktakes courses, you can take an introductory course on telescopes, learn about the Moon, or you can learn about the physics of meteors ("shooting stars") and techniques to observe them. The courses will be given at Turner Farm - Observatory Park in the new Roll-Top Observatory.
-------------------------------------------
The Parktakes Turner Farm Park Astronomy courses will be held whether it is clear, cloudy, or raining. All of the courses have a presentation and talk segment. The observing portion using the Roll-Top Observatory will be held to the extent permitted by the current weather conditions.
-------------------------------------------
Date/Time Title Ages
Wed 11/15/2017 7:30 PM Intro to Telescopes 9-Adult - Geared for the Family

Thu 11/16/2017 7 PM Astronomy for Family Fun: Galaxies 6-Adult - Geared for the Family

Mon 11/27/2017 7:30 PM Exploring the Moon 9-Adult - Geared for the Family

Wed 12/06/2017 7:30 PM Astronomical Seminar & Telescope Viewing 9-Adult - Geared for the Family

Thu 12/07/2017 7 PM Astronomy for Family Fun: Meteor Showers 6-Adult - Geared for the Family

Tue 12/12/2017 7:30 PM Meteor Astronomy 10-Adult - Geared for the Family

You can register at: http://www.fairfaxcounty.gov/parks/parktakes/. All it takes is the sign up with Parktakes to get a member number, locate the course registration page and provide a valid email address and Visa or MasterCard.
Course Descriptions:
Astronomical Seminar and Telescope Viewing: Instructors Analemma Society Staff
The Roll-Top observatory at Turner Farm will hold a classroom seminar and nighttime observing session focused on a specific astronomical topic each month. The topics will range from planets, open clusters, double stars, stellar color spectrum, globular clusters, and galaxies. Telescopes will be used to view the objects of the month discussed in the classroom (weather dependent). Check the Analemma website for monthly topics (www.analemma.org). Classes meet September 13, October 11, November 8, December 6.
Wednesday Dec 6:
Nebulas and Clusters and Galaxies, Oh My!
Instructor: Cal Powell
We are all familiar with the stars and planets that we can see when the Sun sets. However, the night sky contains many wonders that are visible with binoculars or modest telescopes. This fun and interactive presentation is designed to give the general public an introduction to the most common of these astronomical "deep sky" objects. "Nebulas and Clusters and Galaxies, Oh My!" is suitable for all ages.
Intro to Telescopes: Instructors Analemma Society Staff
Now that you have received a new telescope, how do you set it up and use it? Or are you considering buying a telescope? This course goes into introductory basics of Astronomy, observing the sky, and what you need to know to setup and use your telescope. Will provide hands-on use of telescopes and observing selected objects in the sky using the Roll-Top Observatory if the weather allows it. Attendees can bring their own telescope for assistance and advice. Classes meet October 18, November 15.
Meteor Astronomy: Instructor Peter S. Gural (Senior Scientist, Leidos)
Couse covers basic meteor astronomy including meteor phenomena and when they can be seen, fireball reporting and simple visual observing techniques. Learn about automated observations using affordable video cameras. Course also covers advanced techniques using radar, radio, infrasound and spectroscopy. Optional outdoor visual observing sessions after class weather permitting; bring a lawn chair and warm cover/sleeping bag. Classes meet October 19 (Orionids meteor shower), December 12 (Geminids meteor shower).
Exploring the Moon: Instructor Bill Burton
The Moon is as old as the Earth, and its surface is marked by craters and lava flows billions of years old. Explore these lunar features through a high-powered telescope and learn about their origins. See where the Apollo lunar landings occurred, and discuss what the astronauts found. Class will meet rain or shine with alternate viewing sessions available for cloudy days. Classes meet October 25, November 27.
Family Fun Night at the Telescopes: Instructors Analemma Society Staff
Wondering about the earth in space and the kinds of strange objects that make up our universe? Then join our family introduction to Telescopes in the Roll-Top Observatory at Turner Farm Park and take a personal guided tour of the heavens and see the color of stars, open and globular clusters, nebulae and galaxies with your own eyes (dependent on the weather). No experience required. Class meets September 26.
Astronomy for Family Fun: Various Instructors TBD
Enjoy hands-on activities and looking through our telescopes to learn about the solar system and everything in it. Explore every corner, observe some planets (dependent on the weather), and find out why Earth is just right to support life. September 28 - Solar System.
Enjoy hands-on activities and looking through our telescopes to explore the universe (dependent on the weather) and learn about mind-boggling phenomena and celestial happenings. A different topic each night: October 26: Black Holes; November 6: Galaxies; December 7: Geminid Meteor Shower.
Details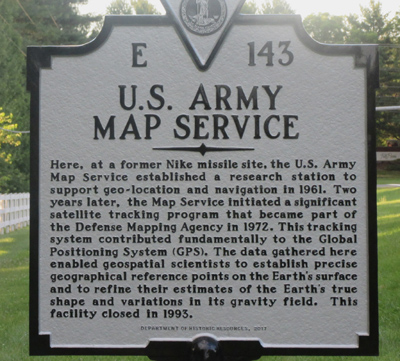 On June 24, 2017, a bright Saturday morning, Fairfax County Park Authority and the Analemma Society hosted the dedication of the Historical Highway Marker Nr, 143. Clyde Smith, Chairman of the Virginia Department of Historic Resources Board explained that obtaining one of these markers on the side of the road requires quite a bit of effort to ensure accurate historical significance.
The area today known as Observatory Park at Turner Farm led a pivotal role over nearly three quarters of a century. In 1954 a portion of the Turner Farm became a Nike missile site, along with a ring of other sites, to protect Washington D.C. As the missiles became obsolete, the grounds were turned into a facility for the U.S. Army Map service for geodesy and navigation. In 1961 the U.S. Army Map Service initiated a significant satellite tracking program that became part of the Defense Mapping Agency in 1972 and more recently became the National Geospatial Intelligence Agency (NGIA).
Read more: Historical Marker Dedication - Fahey Guest Speaker
Details
NRL Galactic Radiation Background (GRAB) Satellite
and JHU-APL Transit II-A Navigation Satellite
carrying first "digital clock" June 22, 1960
The Fairfax County Park Authority, Analemma Society and Great Falls Library have teamed up to present a two-part lecture series, "From Sundials to Satellites to GPS," on April 6 and May 4, 2017. Talks will be held in the library's meeting room from 7 to approximately 8:30 p.m.
On April 6, Stephen Malys of the National Geospatial-Intelligence Agency will speak on the topic "Journey to the Center of the Earth-Status of the Terrestrial Reference Frame." The program will review progress in the past 2,000 years in charting earth's measurements, starting with the age when sundials and trigonometry were considered high tech.
On May 4, Paul Ceruzzi of the Smithsonian Institution's National Air and Space Museum lectures on "Not just GPS: Why Russians, the European Union, China, and India are building satellite navigation systems, and what that means for the U.S. Global Positioning System." Ceruzzi will give a brief history of GPS and show how it has grown far beyond the expectations of its creators.
The lectures are free, and no registration is required. Participants are invited to attend one or both talks. This program ties into activities at the Park Authority's Observatory Park at Turner Farm. The International Sundial Garden at Observatory Park is part of the Turner Farm Conceptual Development Plan and the first sundial, the Jamestown Commemorative Sundial, was installed in 2007. The Army Map Service/Defense Mapping Agency activity that was at the site from 1963 to 1993 was a Satellite Tracking Branch whose work was important to the development of GPS.
Great Falls Library is located at 9830 Georgetown Pike in Great Falls, VA. For more information about the lecture program, contact Daniela Dixon at 703-757-8560. DOWNLOAD THE FLYER

Details
Amid the rain and cloudy skies, on Saturday October 1st, 2016, a ribbon-cutting ceremony officially opened the Roll-Top Observatory at Observatory Park, Turner Farm in Great Falls, VA. Tim Hackman, Dranesville District representative of the Fairfax County Park Authority (FCPA) Board, introduced all those who made the Roll-Top observatory possible through public-community-and-private funding. Initiated in 2007 in collaboration with the Analemma Society, the million-dollar facility was funded in part by the 2008 and 2012 Park Bonds, telecommunications funds, Mastenbrook grant money and a donation provided by Jean and Rick Edelman through the Fairfax County Park Foundation.
Ground breaking for Roll-Top began in 2014 and over the next two years the Roll-Top Observatory design by architects Shaffer Wilson Sarver & Gray of Herndon, VA, was carried out by the construction company Brown and Root of Arlington, VA.
Inside the Roll-Top Observatory a plaque was unveiled stating that the telescopes are made possible through the generosity Jean and Ric Edelman and members of the Analemma Society.
Details
Come join the Analemma Society and the Fairfax County Park Authority on Saturday Oct 1st, 2016 at 10am when the FCPA will dedicate the Roll-Top Observatory and Classroom. The dedication will be at Observatory Park of Turner Farm Park at 925 Springvale Road in Great Falls Firginia. For more information, contact the Public Information Office of FPCA at 703-324-8662.